---
Kleinwohnformen @ ZhdK

2020
Zürich art School
2 week Z-Modul course
Small living and sharing forms


How and where can small private spaces paired up with shared spaces increase living quality – while driving living costs down?

Under the term «Democratization of Housing» the Module wanted to highlight how access to qualitative, social and environemental housing also could be affordable and fair. What role does more fantasy and imagination do to maintain our living costs low? How would your space look like? What could be shared? And where would these shared spaces be located? Can these be built into existing rooms? Does reducing private space play a role here?

We tried to answer those questions with a group of students across all semesters and departments of the Zurich University of the Arts by designing small spaces in Zurich.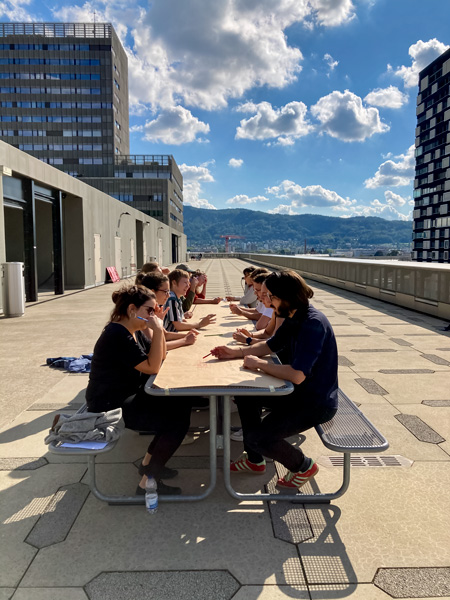 ---
Janus, der Magnet & die Pixel
2020
Zumikon Competition
Revitalising the contemporary suburban village piazza
The key to an attractive village square? The people who visit it. The goal is therefore to attract...and invite to stay!
Janus and its faces: The square's two given stay qualities are strengthened: The everyday on the western village axis: playing, meeting, lingering and the connection to the public transportation. The festive on the spatially defined community square: concerts, open-air cinemas or markets - they take place on the flexibly playable area in front of the community center.
The pavilion as a magnet: An quality gastronomic offer in the pavilion, which radiates warmth, attracts residents. Commuters also pause: the village square is to be strengthened as a mobility and traffic hub.
The pixels and their infrastructure: Whether playground element, pergola, ground marking, viewing platform, bench, pétanque field or plant beds - the pixels are to be seen as flexible and expandable containers that can take on a simple or complex shape. They lead towards and away from the village square.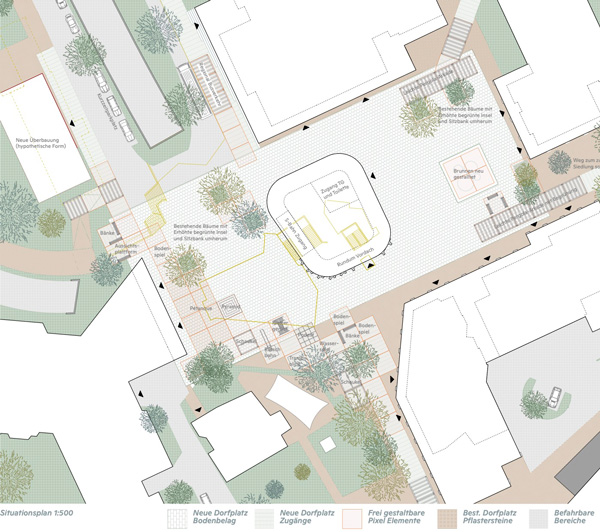 ---
Guerrilla Citizen


2020
Guerrilla installations in public space, Zürich CH

Reappropriation of urban public space can make our cities humane, social and sustainable. It encourages exchange and care, between one another and with the city. Guerrilla-Citizen is a local neighborhood movement which wishes to trigger, empower and encourage residents to take part in the use and in the designing of the surrounding public spaces.The project is directly inspired by Guerrilla Gardeners who take positive action to make unused ressources in their neighbourhood flourish as well as show a sign of protest for the access to shared space and the freedom to use it. Guerilla-Citizen is a mentality: A direct engaged approach to our personal urban environnement. Allow ourselves more possibilites in public space, along with more responsabilites to care for it. In times of the Covid pandemic, welcoming public space is crucial.